At BJSS, we are not just looking at the direct impact that upskilling and reskilling has on our business. We are also looking at the ways we are supporting our local communities too. Over the last few years, BJSS offices across the UK have sponsored events that provide opportunities for young people to learn and understand the variety of roles that exist within the industry. These workshops have been supported by digital makers from various local businesses, as well as staff at BJSS, and have focused on everything from coding and design, to film and wearable tech. Our apprenticeship scheme similarly gives people of all backgrounds the opportunity to work alongside experienced colleagues so they can gain knowledge and achieve professional qualifications – all while earning a salary.
We hope that prospective apprentices understand the benefits of these programmes too. A recent study found that employers prefer candidates to have experience from an apprenticeship over a university degree. When asked why, 71% of participants said it was because candidates had demonstrated their skills in a practical setting, and 62% said it showed they had a better understanding of the world of work.
The tides are changing. Hiring those who are enthusiastic about learning and development is something that we, along with many other companies, value highly. We don't necessarily expect degree-level entrants. Instead, we understand that all individuals offer something unique and can train in a specific skill set.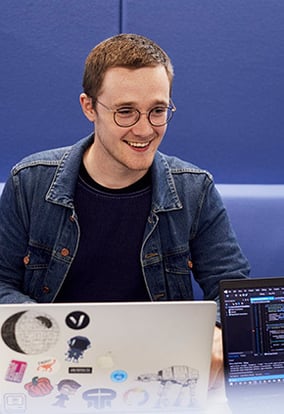 Jack Savage, an employee at BJSS, started out as an Apprentice Software Engineer with us in September 2019 and has since gone on to be a Software Engineer & Squad Lead within the team, working across several different clients. On the apprenticeship scheme, Jack said: "It allowed me to get stuck in from day one. With the software engineer apprenticeship, you get a month-long training bootcamp that takes you from being a complete beginner at programming, to being proficient with one language. Soon after, I was working on a commercial project with experts from a range of disciplines, where I not only improved my coding skills but also all the other inter-personal skills needed to succeed as a software engineer."
At BJSS, we want to break the perception that getting a high-level position in the tech industry is only possible if you went to university. This does not have to be the case. Apprenticeships are a great way to learn and grow, build your network and connections, and move into an ever-growing, ever-changing industry.