BJSS is the UK's leading privately-owned IT and Business Consultancy. As the winner of a Queen's Award for Enterprise, we work with the world's largest organisations, delivering the IT solutions that millions of people use every day.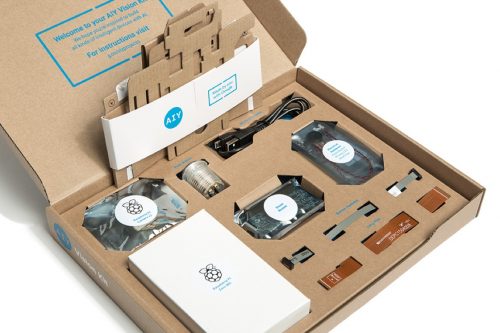 For the winning team:
You're competing for your very own AIY Voice Kit –  a do-it-yourself intelligent speaker from Google.
Experiment with voice recognition and the Google Assistant. You'll build your own natural language processor and connect it to the Google Assistant or Cloud Speech-to-Text service, allowing you to ask questions and issue voice commands to your programs.
The entire kit fits in a handy little cardboard cube, powered by a Raspberry Pi.
We'd like you to tune the power of data, insight and analytics so that the Midlands becomes empowered by AI
We've always harnessed technology to help organisations do great things. Our approach is simple and is at the heart of everything we do: we differentiate ourselves by the technical excellence of our people, and our unashamedly client-focused delivery culture.
Expanding Possibilities in the Midlands!
We have over 80 talented technologists across delivery, software & platform engineering, assurance, architecture and digital design functions based in our Nottingham Delivery Centre. And we've recently expanded to Birmingham where we're planning similar investments for growth.
We're proud to support Hack the Midlands because we believe that technology plays a major in the advancement of our region's society.
Empowered by AI
AI is booming. While it isn't a new thing for technologists, it has only recently become newsworthy.
For the public, AI is seemingly everywhere, and opinions are often driven by negativity and fear. As a result, there is a real risk that the value of AI technology will continue to be misunderstood, and that a backlash from consumer, political and regulatory bodies might stifle its evolution.
We are challenging you to show how AI can benefit our society.
We'd like you to tune the power of data, insight and analytics so that the Midlands becomes empowered by AI.
How can we use machine learning and data to solve of our region's most pressing social challenges?
How can AI help the Midlands to harness a powerful, just and ethical future?
How can you make best use of data sets to try to solve social problems using your technical skills?
Can you find an AI-enabled solution that benefits some of our most vulnerable groups?
Perhaps you have an idea that will benefit those from challenging socio-economic backgrounds? Or maybe you have an idea how data can be used to address the challenges faced by our elderly, disabled or homeless people?
This challenge is designed to make you find creative ways to use AI for managing day-to-day complexities. From handling the economic pressures our society faces, to their everyday challenges, a good solution will take a brave step to making the Midlands empowered by AI.
How to tackle the challenge
To get your creative juices flowing, there are many readily available tools and data sets online that you might like to use, such as the NHS national datasets here and here, Machine Learning tools from AWS and Azure. You can also use our own conversational AI accelerator platform to rapidly develop your solution as a chat or voice based interaction.
It's up to your team to decide how to best promote your idea: is it an app, a website, a collection of microservices, a blockchain – or (hopefully) something we've never heard of or considered? We encourage you to dissect, augment and blend data with whatever you like.
How we'll judge
We'll judge on this criteria:
Social Benefit
Creativity
Teamwork